Coming soon - BS car trip to Swan Hill
After nearly 70 years of service, V/Line's fleet of BS type carriages is being withdrawn from regular revenue services - BS215 & BS216 being placed into storage at Newport Workshops in April 2006 and BS218 & BS219 removed from VN sets and placed into storage in mid May 2006, leaving just one - BS217!
Don-t miss out on taking a last ride aboard one before its too late - go with V/LineCars.com on Saturday 24th June 2006 in a fully chartered BS carriage to the far Northern Victorian town of Swan Hill for just $30-$60!* Yes, at least half of the normal adult off-peak return fare! That in itself is great value!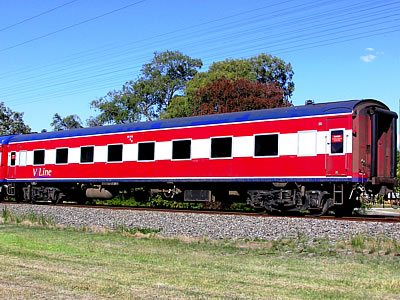 BS carriages first entered service operating between Melbourne and Albury on the Spirit of Progress in 1937. With several recodings from the 1950's onwards, they have been used as air conditioned carriages all over the Victorian Railways network, and are the last of the "aisle and compartment" layout style carriages in revenue passenger service.
Strictly limited to 60 passengers, the chartered BS carriage will be attached to the usual Saturday day return service to Swan Hill, leaving Melbourne's Southern Cross Station at 8:40am and arriving back into Melbourne around 12 hours later at 6:27pm.
There will be sufficient time in Swan Hill to go and grab a quick bite to eat or take a short walk, or alternatively you can buy lunch from the train's onboard buffet service.
So what are you waiting for! Don't regret not riding in a BS one last time, travel 690km by rail and have a fun day out with fellow enthusiasts at a heavily discounted price!
The total fare will vary between $30 and $60 depending on total numbers. The present fare is $60.
If the fare at the end of the booking period is less than the $60 booking fare, the difference between $60 and the final fare will be refunded within a week of the trip occurring.